Last week, we started our Top-10 list of games that parents can enjoy with their kids. It's important to remember family friendly games don't have to be childish. There are plenty of titles that feature amazing game play, art, and design without gratuitous or other edgier content. These games feature some of the most unique and age-appropriate original concepts, tasteful art that perfectly matches the design, replayability that's endlessly fun.
To review, we established the following rules:
Nothing rated higher than T (Teen) by the ESRB
Franchises treated as a single entity
Player population is a factor
Nostalgia is not a factor
Must be available for purchase (Today)
Try to show a variety of publishers, developers, and project sizes
I must have actually bought, played, and enjoyed these games
The list is presented in no particular order or rank
Now we're back with the second half of our Top-10 list. Meet Octodad!
Octodad is a weird game.
This isn't another push the thumbstick forward or hold W to advance your character game. No, in Octodad your 4 appendages (trust me you'll be glad it isn't 8) are independently controlled. The gameplay comes from trying to accomplish simple tasks (pour a glass of milk, grocery shop, buy tickets, etc.) using the unconventional style. The result? Octodad slides or crawls across the floor trying to slither to the cereal aisle to get the sugary breakfast his kids love.
It's hilarious; it's challenging, and they've even implemented 4-player local co-op, so you can actually play Octodad as a whole family.
Did I mention only the nemesis Chef seems to recognize Octodad is an octopus?
Rayman is an excellent 2d-platformer series with a ton of replayability and collectibles.
While not quite as accessible to new gamers, Rayman is an excellent drop-in/drop-out 4-player game. There's boatloads of content and it ranges in difficulty. Mastery of levels is not for the faint of heart, especially when it comes to getting all the collectibles and time trials. The art is stylized, cartoonish, and just gorgeous.
You and your kids will love these titles, and it's a great opportunity to learn from each other as you trudge through the more difficult levels.
In Scribblenauts you solve hundreds of puzzles based on your creativity and vocabulary.
Arguably, this could be the hardest to play with your kids. However, I'm sure there's a ton of educational value here. Better yet, your vocabulary controls the experience. Do you get the cat out of the tree with a firefighter? Or do you go for something a little more drastic, say Cthulhu?
I wasn't a huge fan of Scribblenauts: Unmasked (a DC universe cross-over), but you can't go wrong with Scribblenauts Unlimited. It is great fun and spectator friendly. There are several mobile options as well if you're more of a tablet family.
If you haven't heard of Sonic, I would ask, how did you manage that? If you have heard of Sonic, you're probably screaming at the screen.
The games are fun, difficult to master, have a ton of replayability, and the PC versions are a litmus test for which ones to buy. Whether it's the Genesis 1-3, or the more recent 4 (episodes 1 and 2), or my favorites: Generations and Adventure 1 and 2, you are going to get a good amount of playtime and have a boatload of fun doing it.
Sonic is essentially a racing game blended with a platformer. You reach super high speeds, but can be dead stopped by an enemy or obstacle. There's a decent backlog here to work through without breaking the bank, and Sega has progressively driven Sonic toward the more family-friendly crowd. They've gone a bit overboard lately, but I'll address that some other time.
Sonic is a great way to show your children the evolution of technology and teach them some real platforming skills!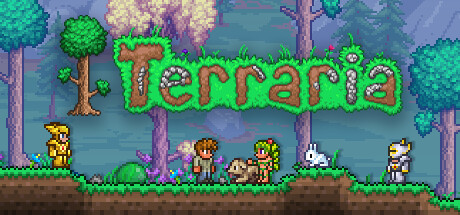 Terraria is like Minecraft with more established goals and one less dimension.
Admittedly, Terraria can be difficult, especially for a first time player. There's a few comprehensive wikis to get you up to speed. You can be creative and build a house, or you can dig into the Earth to discover treasures and enemies. There's a lot of action, and if you are not familiar with metroidvania style games, prepare for a steep learning curve.
There's a lot to love about Terraria, and there's a ton of content to work your way through. You might need to brush up on your networking skills to organize a LAN game, but it'll be worth it to be able to explore the depths of dank caves with your children.
I had to narrow it down to 10 for this list, but I would've loved to talk about more. If I missed one of your favorites, or you have a great experience with out of these titles, tell me about it. I want to know!
Your Most Humble Community Servant,
Chris
Boilerplate
If you have any suggestions for future blog topics, or would like to write a guest blog for us, tweet @KingdomGamesATX.